Imagine being greeted each morning by the drama of a new day, soothed by the serenity of twilight and romanced by the glow of nightfall.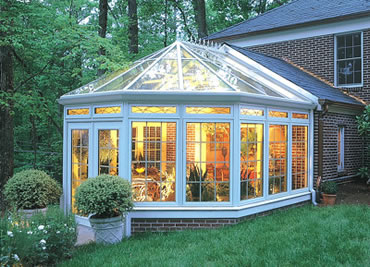 Designed for year-round living, our solarium, conservatory and sunroom designs can be customized to fit your lifestyle and will enhance the beauty and value of your home. Traditional and contemporary sunrooms and conservatories will add light, elegance and a spacious look that will blend perfectly with any style home. Each patio room, conservatory and sunroom design comes in a variety of sizes, roof and frame finishes, door choices and many other features. Outdoor rooms to match budgets of a few thousand dollars up to a few hundred thousand dollars. No one in Middle Tennessee has the options and decades of experience you will find at Palm Beach Enclosures.


Sunroom Styles
There are 4 basic styles of sunrooms to choose from, and 5 different types of roof. The basic styles define the interior purpose, such as a patio garden or an extravagant conservatory. The roof types define the external appearance, but also determine how well your room addition will match the existing home.
Curved Roof Studio Sunrooms
This type of sunroom roof curves over the corners of the room instead of coming to a junction. The corners are formed by using curved panes of glass.
Straight Roof Studio Sunrooms
The straight eave is perhaps the most basic type of sunroom roof. The roof panels end at the top of the walls, forming a distinct junction where the two meet.
Slanted Roof Sunrooms / Conservatories
A slanted roof is a single flat roofing expanse, usually starting high up against the home and slanting down and away from it, with the drainage being on the side farthest from the home.
Cathedral Roof Sunrooms
A cathedral roof has a slanted roof style similar to a straight eave, but the top is often capped with one or more flat panels, providing the vaulted, cathedral appearance.
Material Choices in Sunrooms & Conservatories
Not only does Palm Beach Enclosures offer you the largest and most complete product range in every architectural style, we also offer you the largest choice in structural materials: sleek aluminum, efficient vinyl, and warm and inviting natural wood. Only PBE gives you this much choice to fit your personal style and build the room of your dreams.