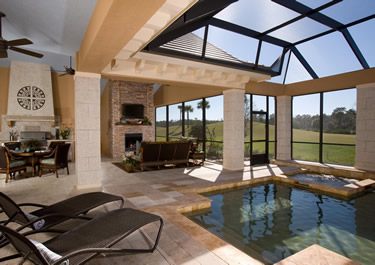 Palm Beach Enclosure's huge range of custom built enclosure products keep pools safe, clean, warm and exceptionally economical to run. Best of all, it is easy for our pool enclosures to be opened up by one person, manually or even electronically when required, which means you can make it an outdoor pool again at any time you want!
Extend your Swimming Season!
These structures, which can also be referred to as a Pool Dome, Retractable Roof, Pool Buildings, Automatic Roofs or also a Telescopic Pool enclosure, can change any outdoor pool to be an indoor pool whenever you like. Swim all year round! To protect swimmers from the elements on colder days, simply close or partially close the semi-separate elements.
Reduce all pool running costs to a fraction of what they are now.
Our Pool Enclosures will seal out all leaves, dirt and debris, keeping your pool completely clean all year round. With the enclosure in place, the heating costs are greatly reduced and the structure will also assist in heating the pool. Evaporation is eliminated and so too the chemical loss with it.